Curtains are such a  common design disaster and you may not even know something is wrong! Let's go over how to hang your curtains properly, and why these examples work to your advantage. But first, we will address what you may be doing wrong.
1. Hanging your curtains too low:
How to fix it:
Make sure to hang your curtain rod at least 20″ above your window molding OR hang right beneath your crown molding. This creates height and allows more light to enter the room.
2. Hanging your curtains to fit the frame of the window is another common mistake. You want to make sure you are hanging your curtain rod about 8″ out on either side. That way, when you open your curtains, you will displaying the entire window frame!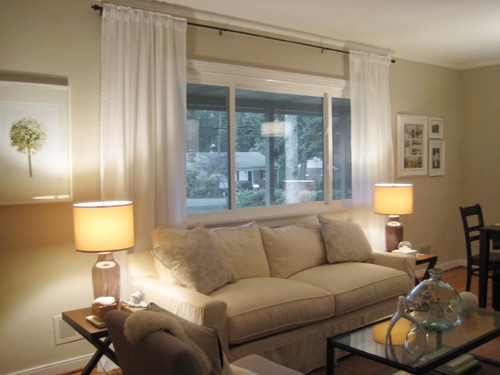 Combine the first two tips and hang your curtains HIGH AND WIDE. Creating the illusion of a wide and tall window will make your room transform!
3.  Still not seeing results? Your curtains may be too short!
You want to make sure your drapes are either "kissing" the floor, resting on the floor, or puddled for a romantic look. See the diagram below for reference:
Follow these few rules and you will be on the way to curtain success!
Have any other Design Dilemma's that you would like us to conquer? Let us know in the comments below or on our Facebook page!