Bookcases may be the last thing you think about when decorating your space. This is a common design foe because they can make or break a room! Bookcases add color, personality, and can be an easy way to add sophistication when it is seriously lacking. But, where do you start?
If you are a collector of books, let them shine! Every book is a conversation piece and can add a pop of unexpected color. However, the way you organize them can make a difference.
1. Try the color method: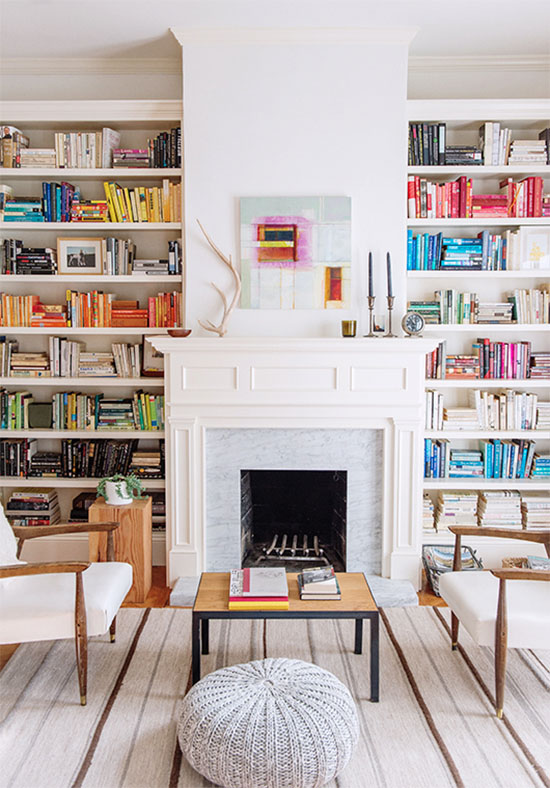 This method is an easy way to add bright color to your room. It truly is an eye catcher! Design hack: take the dust jackets off of your books and you will be surprised how beautiful they are without them!
Another way to organize your books is to place them horizontally and vertically on the shelves. Doing so adds a great platform for accessories and interest when stacking vertically gets too boring.
This brings up another topic to discuss:
2. Accessorize! 
Be careful how many knick knacks you display on your shelves. Make sure they have a common design theme or compliment each other! It is also a great idea to speckle in a few mini plants to add a pop of green and a natural texture. Have a collection of vases, plates, or family photos you would like to display? This is where to do it!
These methods only work; however, if you have a lot of books! So, here is a great suggestion if you are not the town book connoisseur.
2.  Add artwork!
You may be surprised to hear that you can add large pieces of art on the molding of your bookshelf! It adds a chic layering effect and can hide some unsightly books that you love but don't want to display.
You can also do this with mirrors:
We hope this helps you conquer your next bookcase conundrum! Have any other ideas? Let us know! Leave comments below or contact us on our Facebook page! As always, any of our designers would be happy to help you with the next design dilemma!