St. Patrick's Day has come to represent the return of Spring, especially here in the South, where the grass is green, flowers are blooming and days are getting warmer and warmer. It may even inspire us to bring green back into the color scheme in our homes. We know you will love all of our green options in the stores and thought it would be fun to share them with you in celebration of St. Patrick's Day this year. We invite you to wear your green clothes and come browse all things green today at your nearest location.
Here are a few green options in our stores!
This is one of our top selling sofas. Elevate the look and feel of your living room with this opulent frame with smooth tufted sapphire emerald velvet. Change the look with different patterned pillows, throw blankets and accessories. This sofa could easily fit in a contemporary or traditional home!
A new arrival! Effortlessly on-trend. Two-cushion seating of sage top-grain leather, with knife-edge pillows and welted track arms. Almond-finished legs taper for a modern touch atop mid-century influence. Shop this beauty here. This is another tranisitonal item that can easily be transformed to fit your style.
What a great way to accent your space! This barrel backed chair with a hammered iron frame is a showstopper in an olive-green velvet fabric. Pair it with a sofa, flanked around a fireplace, in a bedroom, or any nook that needs extra seating.
Craft a Parisian air with this French-inspired chair. With a chenille-like texture and earthy olive hue, high performance-upholstered seating is perfectly positioned for comfort, with parawood framing and woven sides of natural cane.
Green is one of the easiest colors to work with when it comes to interior decorating. If you don't feel adventurous enough to add a green sofa or chair, we have plenty of accents that add a pop of natural green that will blend into your existing space. We know you will love our low maintenence boxwood topiaries that add a real, natural pop of green without needing to have a green thumb.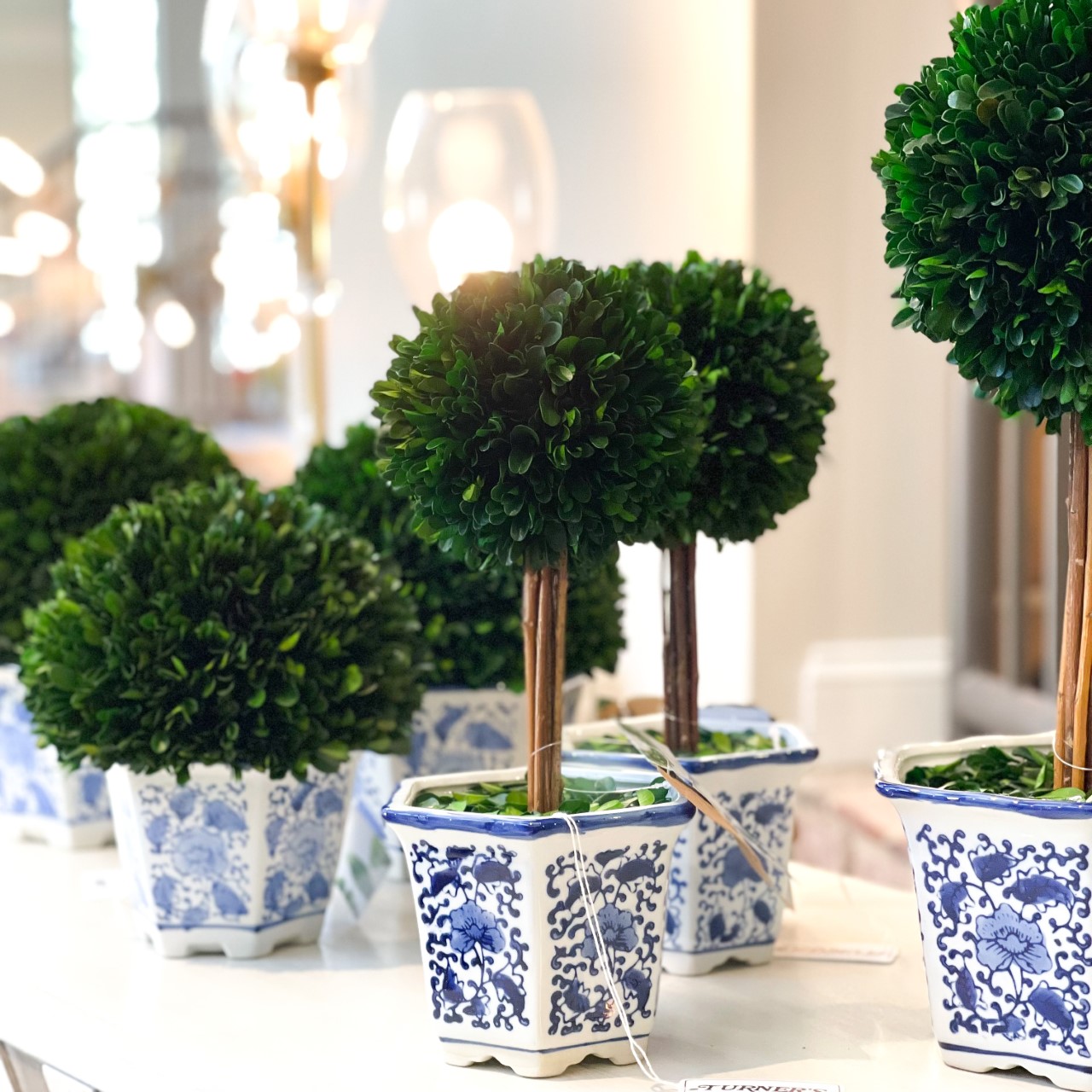 Each Turner's Furniture location in Albany, Valdosta, Tifton, Thomasville, and Warner Robins offers a wide selection of indoor greenery, plants, garden stools, lamps, rugs, pillows, vases and more! Check your local store for availability.
Follow us on Instagram for more inspiration around our stores!